Description
Food Supplement of Glucosamine Sulphate, Chondroitin Sulphate and MSM
Indicated for joint function.
Glucosamine, chondroitin and methylsulphonylmethane (MSM) are substances that are naturally present in human bone cartilage.
These compounds, either alone or combined, have shown various degrees of efficacy in the treatment of many osteoarticular and inflammatory disorders.
These substances can offer relief and improve repair processes and musculoskeletal function.
---
Active ingredients

Glucosamine sulphate: water soluble amino-monosaccharide present especially in the hexoskeleton of crustaceans, a natural source from which it can be obtained. It is a constituent of glycosaminoglicans (GAG), an essential component present in the matrix of joint cartilage and in skin.
Chondroitin sulphate: a macromolecule of the glycosaminoglycan (GAG) family with a structural role in the formation of the extracellular matrix of connective tissue.
MSM: a natural compound containing a high concentration of organic sulphur, a component of collagen and keratin, indicated for tendon, ligament and joint health.
---
Plus
OptiMSMTM is a formulation of MSM that guarantees high quality and bioavailability. Its excellent degree of purity, obtained with the molecular distillation procedure, allows to separate and eliminate any contaminants that might be present.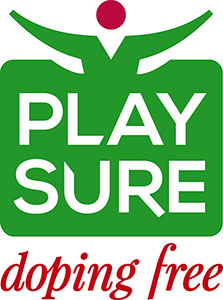 Play Sure-Doping Free certified product
---
Insights

MSM is the acronym for methylsulphonylmethane, a sulphurous organic compound that contains about 35% of elemental bioavailable sulphur.
Studies carried out on this substance reveal an anti-inflammatory activity that can reduce pain, particularly joint pain.
Also effective for pain and muscle cramps, sulphur is used for food allergies and intolerances as it can increase the body's defences.
Glucosamine and chondroitin are two natural components of articular cartilage. Adequate dietary supplementation of these substances helps the cartilage to withhold water and protects it from age-related mechanical wear and tear (arthrosis).
---
Label
| Each tablet contains | |
| --- | --- |
| Glucosamine sulphate 2 KCl | 500 mg |
| Chondroitin sulphate | 400 mg |
| MSM | 250 mg |
Ingredients: glucosamine sulphate 2 KCl (from CRUSTACEANS), Chondroitin sulphate (from bovine), OptiMSM™ – methylsulfonylmethane, anti-caking agent (stearic acid), potassium chloride, bulking agent (dibasic calcium phosphate), thickeners (hydroxypropyl methyl cellulose and microcrystalline cellulose), anti-caking agent (silicon dioxide), thickener (sodium carboxymethyl cellulose), anti-caking agent (vegetable magnesium stearate), glazing agent (hydroxypropyl methyl cellulose), firming agent (glycerol).
OptiMSM™ is a trademark of Bergstrom Nutrition – U.S.A.
ALLERGENS CONTAINS CRUSTACEANS
WARNINGS
In case of diabetes, monitor plasma glucose levels. It may cause light gastrointestinal disorders.