Description
Multivitamin
with 11 minerals, alpha lipoic acid and coenzyme Q10, indicated for psychophysical well-being. High dosage.
One Tab Complete is a high-quality multivitamin-mineral designed to supply the body with key nutrients to promote energy and psychophysical well-being.
Nutritional deficiencies can cause symptoms, such as loss of appetite, poor resistance to infections, physical and mental fatigue, irritability, insomnia, digestive problems, weight loss, and muscle weakness.
---
Active ingredients

Vitamin A: essential for eye, skin, and immune system health.
Vitamin D3: important pro-hormone for bone tissues, it has non-skeletal actions, such as immune response and cardiovascular health.
Vitamin E: antioxidant vitamin that acts on the cell membrane.
Vitamin K2: essential for blood coagulation and bone metabolism processes.
Vitamin C: one of the most important vitamins for our body, with antioxidant, anti-inflammatory, anti-allergic and anti-tumoral action.
B1 (thiamine): essential for the carbohydrate metabolism, it also regulates the consumption of glucose, which is essential for nervous tissue. Its inadequate intake can cause irritability, poor concentration, sleep and memory disorders and poor muscle performance.
Riboflavin (vitamin B2): antioxidant, it increases iron absorption and regulates erythrocyte growth. It has protective effects on skin, hair, nails and eyesight. It fights weariness and fatigue.
Niacin: supports nervous system function and maintains normal skin and mucous membranes.
 Vitamin B6 (pyridoxine): combined with folic acid and vitamin B12, it contributes to reduce homocysteine levels, besides controlling mood and premenstrual syndrome.
Folic Acid: essential to protect the foetus during pregnancy; combined with vitamins B6 and B12, it contributes to reduce homocysteine levels. Its deficiency is observed in cases of depression, autism and cognitive disorders in the elderly.
Vitamin B12 (cyanocobalamin):  essential vitamin for both vegetarians and vegans; combined with folic acid and vitamin B6, B-12 contributes to reduce homocysteine levels. Useful for mood disorders and to improve cognitive function.
Biotin (vitamin H): biotin is a vitamin that is commonly used in cosmetics. It is particularly important for healthy skin adnexa (skin, hair, nails).
Pantothenic Acid (B5): contributes to the normal synthesis of steroid hormones, of vitamin D and of some neurotransmitters.
Calcium: one of the most abundant minerals in the body, it accounts for 2% of the total body weight. Present electively in bones, it is essential for nerve function, muscle contraction and coagulation mechanisms.
Phosphorus: second most abundant mineral in the body, ca. 85% of it is deposited in the bones, while the remaining part is located in soft tissuesandextracellular fluids.
Iron: its main function is to combine with proteins and copper to form haemoglobin.
Magnesium: along with calcium, it is the most abundant micronutrient in our body. It is especially important because it optimises the function of more than 600 enzymes that are responsible for an equally large number of vital functions, especially in the brain and muscles.
Zinc: antioxidant micronutrient that is involved in the formation of many enzymes that catalyse important reactions in the body.
Copper: micronutrient required for the formation of haemoglobin, red blood cells and myelin.
Manganese: micronutrient required for many enzymes, it participates in bone and connective tissue metabolism.
Iodine: an essential element for proper thyroid function and to ensure optimal energy metabolism.
Chromium: micronutrient essential for normal carbohydrate metabolism.
Selenium: antioxidant with particular effects on skin, thyroid and male fertility.
Molybdenum: necessary for 2 enzymatic reactions: oxidase (fatty acid oxidation) and xanthine oxidase (mobilisation of iron from reserves in the liver).
Alpha Lipoic Acid: or thioctic acid, has antioxidant action and reduces insulin resistance.
Coenzyme Q10: antioxidant cofactor required for ATP synthesis and cellular bioenergetic activity.
---
Plus
High dosage.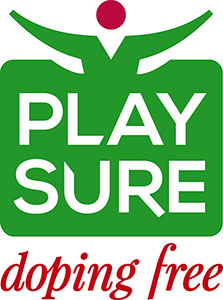 Play Sure-Doping Free certified product
---
Beneficial effects

Health-promoting and restorative action
Muscle function
Neurological function
Immune system function
Bone and teeth health
Psychological function
---
Insights

A balanced diet is the best way to ensure optimal supply of the nutrients required to maintain health. However, in some cases dietary supplementation is required to support the body in particular moments of need (convalescence, stress, poor concentration, etc.).
Vitamins and minerals intervene in many metabolic processes of the body, particularly supporting it in case of psychophysical stress, low immune system defences, cardiovascular and bone disorders. They also provide effective antioxidant protection for cellular structures.
---
Label
Each tablet contains
NRV%
Vitamin A
400 mcg
50%
Vitamin D-3
10 mcg
200%
Vitamin E
60 mg
500%
Vitamin K-2
25 mcg
33%
Vitamin C
250 mg
312%
Vitamin B-1
25 mg
2272%
Vitamin B-2
25 mg
1785%
Niacin
25 mg
156%
Vitamin B-6
10 mg
678%
Folic acid
200 mcg
100%
Vitamin B-12
33 mcg
1320%
Biotin
50 mcg
100%
Pantothenic acid
18 mg
300%
Calcium
160 mg
20%
Phosphorus
123 mg
17%
Iron
7 mg
50%
Magnesium
75 mg
20%
Zinc
5 mg
50%
Copper
0.5 mg
50%
Manganese
1 mg
50%
Iodine
75 mcg
50%
Chrome
20 mcg
50%
Selenium
25 mcg
45%
Molybdenum
25 mcg
50%
Alpha-lipoic acid
10 mg
Coenzyme Q10
10 mg
Ingredients: calcium phosphate, L-ascorbic acid, magnesium oxide, d-alpha tocopherylsuccinate, stabiliser (sorbitol), thickener (xanthan gum), iron citrate, anti-caking agent (stearic acid), thiamine mononitrate, riboflavin , niacinamide, calcium pantothenate, Ascophyllum nodosum L. titrated to 0,4% iodine, zinc citrate, anti-caking agent (vegetable magnesium stearate), pyridoxal-5-phosphate, alpha-lipoic acid, ubidecarenone, manganese gluconate, anti-caking agent (silicon dioxide), cholecalciferol, L-selenomethionine, copper gluconate, cyanocobalamin, menaquinone-7, Betatene® 10% – natural mix of microincapsulated caretenoids from D. Salina® algae thallus (gelatin, sucrose, antioxidant ascorbyl palmitate, olive oil, algae carotenoids, antioxidant mix of tocopherols, anti-cacking agent silicon dioxide), folic acid, sodium molybdate, chromium picolinate, biotin, glazing agents (hydroxypropylmethylcellulose and glycerol), colours (titanium dioxide and chlorophyll).
NRV= Nutrient Reference Values