Description
Food Supplement with 5 Magnesium Salts
Essential cofactor for the activity of more than 600 enzymes, and widely known, highly bioavailable anti-stress mineral.
Magnesium is a mineral that is present in high amounts in the human body where it performs several essential functions.
Besides being a necessary cofactor for many enzymes, magnesium participates in cellular respiration, nerve impulse transmission, muscle contraction, and strengthens the body's defences.
It seems that magnesium will perform an increasingly important role in the prevention of many health disorders.
In fact, its correct nutritional intake is implied in cardiovascular, bone and nervous system health. It also improves the balance of lipid parameters and alleviates the effects of ageing.
Magnesium deficiencies can cause fatigue, headache, muscle tension, insomnia, irritability, restlessness and muscle cramps.
---
Active ingredients

Magnesium: along with calcium, it is the most abundant micronutrient in our body. It is especially important because it optimises the function of more than 600 enzymes that are responsible for an equally large number of vital functions, especially in the brain and muscles.
---
Plus
5 highly bioavailable Magnesium Salts to instantly support the many functions in which it is involved. One tablet supplies the amount of magnesium that corresponds to 100% of the RNI (recommended nutritional intake).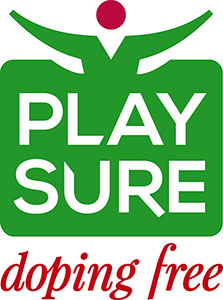 Play Sure-Doping Free certified product
---
Beneficial effects

Reduces weariness and fatigue
Electrolyte balance
Overall energy metabolism
Normal nervous system function
Normal muscle function
Normal protein synthesis
Normal psychological function
Maintains normal bones and teeth
Maintains the cellular division process
---
Insights

What causes magnesium deficiency?
Considering that only 30-40% of magnesium ingested is absorbed by the body, its deficiency, besides being caused by an imbalanced diet, is associated with stress, intensive muscular effort, menopause, pregnancy and insomnia.
According to recent studies, 20% of Italians present magnesium deficiency, and the most common symptoms of this deficiency are irritability, anxiety, sleep disorders, arrhythmias and palpitations.
Magnesium can regulate muscle contraction, attenuating fatigue and avoiding the onset of muscle cramps. Hence, it is also useful for those who practice sports.
It modulates nervous system activity and protects the cardiovascular system from arrhythmias, palpitations and hypertension.
It cooperates with calcium in maintaining healthy bones, and supports mood, especially during stressful periods. It controls anxiety and favours the sleep cycle.
Recent data also suggest its adjuvant action in controlling blood glucose and cholesterol levels.
A great friend of women, magnesium is a safe adjuvant for those who experience premenstrual syndrome, menstrual headache and menopausal disorders.
A recent study of the data of more than one million people in nine different countries regarding magnesium consumption for a period of 4-30 years observed a 10% reduction in the risk of coronary heart disease, 12% for stroke and 26% for diabetes type 2 in subjects with the highest consumption of magnesium.
---
Label
| Each tablet contains | | NRV% |
| --- | --- | --- |
| Magnesium | 375 mg | 100% |
Ingredients: magnesium oxide, stabiliser (sorbitol), thickener (microcrystalline cellulose), anti-caking agent (magnesium stearate vegetable), bulking agent (dibasic calcium phosphate), magnesium ascorbate, magnesium citrate, magnesium gluconate, magnesium succinate, glazing agents (hydroxypropylmethylcellulose, calcium carbonate, talc and polyethylene glycol).
NRV= Nutrient Reference Values
WARNINGS
You should seek medical advice during pregnancy and lactation. Excessive consumption may induce laxative effects