Description
Vitamin C Food Supplement
Indicated to strengthen the immune system and to protect the skin, with citrus bioflavonoids. Time release formula.
Vitamin C(ascorbic acid) is an essential soluble vitamin for nutritional mechanisms.
In fact, it is crucial for the regulation of many biochemical reactions in the body: it participates in collagen formation, bone, teeth, blood vessel and connective tissue maintenance and development, corticosteroid hormone and antibody synthesis. It is also necessary for the absorption of dietary iron.
With its antioxidant action, it is also important for many immune system mechanisms.
Vitamin C works synergistically with bioflavonoids, compounds that favour its absorption and prevent its oxidation.
---
Active ingredients

Vitamin C: one of the most important vitamins our body is unable to synthesise and, thus, needs to take with the diet. Moreover, it does not build up in the body, and must be taken regularly to maintain constant blood levels.
Bioflavonoids: polyphenol substances present in many foodstuffs, they feature health-promoting properties, such as cardiovascular, vasoprotective, anti-inflammatory and neuroprotective actions.
---
Plus
With its particular t/r (time release) formula, this product allows the gradual release of water soluble nutrients into the body over a period of 12 hours.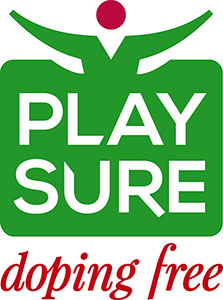 Play Sure-Doping Free certified product
---
Beneficial effects

Maintains regular immune system function both during and after intensive physical exercise
Normal formation of collagen for blood vessel function
Regularises nervous system function
Regularises psychological function
Regularises immune system function
Protects cells from oxidative stress
Reduces weariness and fatigue
Regenerates the reduced form of vitamin E
Increases iron absorption
---
Insights

We must thank Linus Pauling, the twice Nobel prize winner for chemistry who extensively studied the role of vitamin C in the body, exploring its possible therapeutic functions and supporting its high dosage intake.
The antioxidant action on the cardiovascular system has beneficial effects on cholesterol and triglyceride levels, blood pressure, circulation and vascular health.
Vitamin C stimulates collagen synthesis and enhances skin surface hydration. Its concentration diminishes by up to 70% with exposure to sunlight and to pollution.
The same is true for smoking and passive smoking. It seems that every cigarette can "consume" 25 mg of vitamin C, and that smokers present a deficiency that is 4% higher than non-smokers.
---
Label
Each tablet contains
NRV%
Vitamin C
1000 mg
1250%
Bioflavonoids from citrus complex
500 mg
50% [250mg] bioflavonoids
Rutin
50 mg
Hesperidin complex
28.6 mg
35% [10mg] hesperidin
Quercetin
25 mg
Ingredients: vitamin C (L-ascorbic acid, L-Ascorbyl 6-palmitate and L-ascorbate calcium) with gradual release microspheres, bioflavonoids from citrus complex, microalgae Chlorella pyrenoidosa with broken cell, anti-cacking agent (stearic acid), thickeners (microcrystalline cellulose and xanthan gum), rutin, anti-caking agent (vegetable magnesium), hesperidin complex (from Citrus sinensis L.), quercetin, anti-caking agent (silicon dioxide), Rosa canina L. false fruit dry extract. 4:1, glazing agent (hydroxypropyl methyl cellulose), firming agent (glycerol).
NRV= Nutrient Reference Values
Do not take during pregnancy.