Description
B Complex Vitamins Food Supplement
for energy metabolism, cognitive functions and guaranteed energy and vitality. High dosage.
B complex 50 t/r is a food supplement of B group vitamins, which have several health-related functions. They are particularly essential for the energy metabolism.
B group vitamins are essential for mental, emotional and cardiovascular well-being.
---
Active ingredients

B1 (thiamine): essential for the carbohydrate metabolism, it also regulates the consumption of glucose, which is essential for nervous tissue. Inadequate intake of B1 can cause irritability, poor concentration, sleep disorders, memory loss and poor muscle performance.
B2 (riboflavin): this antioxidant vitamin increases iron absorption and regulates erythrocyte growth. It has protective effects on skin, hair, nails and eyesight. It alleviates weariness and fatigue.
B6 (pyridoxine): combined with folic acid and vitamin B12, it favours the reduction of homocysteine levels, besides controlling mood and premenstrual syndrome.
Niacin (B3): supports nervous system function and maintains normal skin and mucous membranes.
B12 (cyanocobalamin): an essential vitamin for both vegetarians and vegans, combined with folic acid and vitamin B6, B12 favours a reduction in homocysteine levels. Useful for mood disorders and to improve cognitive function.
Folic Acid (B9): essential to protect the foetus during pregnancy; combined with vitamins B6 and B12, it favours a reduction in homocysteine levels. Its deficiency is observed in cases of depression, autism and cognitive disorders in the elderly.
Pantothenic Acid (B5):  contributes to the normal synthesis of steroid hormones, of vitamin D and of some neurotransmitters.
Biotin (vitamin H): biotin is a vitamin that is commonly used in cosmetics. It is particularly important for healthy skin adnexa (skin, hair, nails).
PABA (para-aminobenzoic acid): PABA (vitamin B10) is required for folic acid synthesis, and is decisive for protein metabolism. Supports the action of biotin and of folic acid.
Choline: necessary for normal hepatic function, along with methionine, folic acid and vitamin B12, choline belongs to the group of lipotropic substances, compounds that prevent fatty acid deposits from blood. It is the precursor of acetylcholine and of phospholipids that form cell membranes.
Inositol (vitamin B7) in its active form "myo-inositol" it is the greatest precursor of phospholipids, cell membrane components.
---
Plus
With its particular t/r (time release) form, this product allows the gradual release of watersoluble nutrients in the body, ensuring excellent absorption of B group vitamins.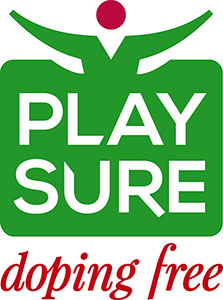 Play Sure-Doping Free certified product
---
Beneficial effects

Supports the energy metabolism
Supports the nervous system and mental performance
Normal homocysteine metabolism
Normal immune system function
Healthy skin and hair
Normal blood metabolism
---
Insights

B group vitamins are actually essential for overall well-being. In fact, they are necessary for immune, nervous and digestive system function, for heart and muscle function, and for the production of new blood cells.
Their presence is also required for the production of hormones and proteins, for the transformation of foodstuffs into energy, and for nerve tissue repair.
These vitamins, particularly folic acid, B12 and B6, can reduce homocysteine levels in the blood, subsequently diminishing the cardiovascular and neurological risk.
This group of vitamins has a positive effect on overwork stress, and can be used as preventive therapy for migraine, even associated with menstruations.
Another sector in which these vitamins seem to play an important role is mental health, particularly mood disorders, such as depression.
---
Label
Half (½) tablet contains
NRV%
Vitamin B-1
25 mg
2272%
Vitamin B-2
25 mg
1785%
Vitamin B-6
10 mg
714%
Niacin
25 mg
156%
Vitamin B-12
25 mcg
1000%
Folic acid
200 mcg
100%
Pantothenic acid
18 mg
300%
Biotin
25 mcg
50%
P.A.B.A.
25 mg
Choline
25 mg
Inositol
25 mg
Ingredients: bulking agent (dibasic calcium phosphate), maltodextrin, anti-caking agent (vegetable stearic acid), thickener (microcrystalline cellulose), choline bitartrate, thickener (hydroxypropyl methyl cellulose), thiamine mononitrate, inositol, riboflavin, nicotinamide, P.A.B.A., calcium-D-pantothenate, pyridoxine hydrochloride, anti-caking agent (silicon dioxide), thickener (acacia rubber), anti-caking agent (vegetable magnesium stearate), glazing agent (glycerol), folic acid, cyanocobalamin, biotin.
NRV = Nutrient Reference Values
Riboflavin-based supplements give a yellow-green colour to the urine, which, however, does not have any pathological significance. The expiry date refers to the product in sealed and correctly stored packaging. Once opened, consume within 5-6 month.